2023-06-19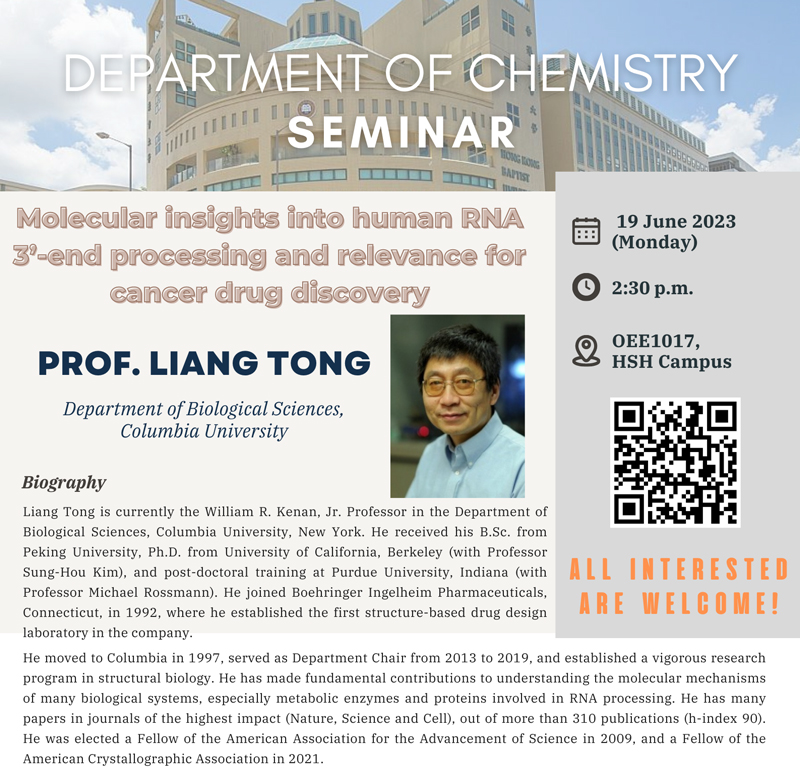 Seminar (19-Jun) - Molecular insights into human RNA 3'-end processing and relevance for cancer drug discovery by Prof. Liang Tong
Prof. Liang Tong from Columbia University, US is going to deliver a seminar with the title "Molecular insights into human RNA 3'-end processing and relevance for cancer drug discovery"
Date : 19 June 2023 (Monday)
Time : 2:30 p.m.
Venue : OEE1017, Ho Sin Hang Campus
Abstract
Two different machineries are involved in the 3'-end processing of mRNA precursors (pre-mRNAs). Most eukaryotic pre-mRNAs are cleaved and then polyadenylated at the 3¢-end, and their processing machinery (the canonical n1achinery) is composed of CPSF (cleavage and polyadenylation specificity factor), CstF (cleavage stin1ulation factor), poly(A) polymerase (PAP), CF I (cleavage factor I), CF II, RBBP6, and other protein factors, with a total molecular weight of about 1.8 MDa. In comparison, metazoan replication-dependent histone pre-mRNAs are cleaved at the 3'-end but are not polyadenylated, and their processing machinery is the U7 snRNP, with a total molecular weight of about 1 MDa. CPSF73 is the endoribonuclease for the cleavage reaction in both machineries, and
recent studies suggest CPSF73 is also a potential target for novel anti-cancer drugs.
We have been studying the molecular basis for the functions of these machineries, and have determined the structures of their protein factors and sub-complexes over the years, including the recent structure of a reconstituted, active U7 snRNP in complex with a model histone pre-mRNA substrate, with the machinery poised for the cleavage reaction. This structure has provided unprecedented molecular insights into pre-mRNA 3'-end processing.