2020-03-23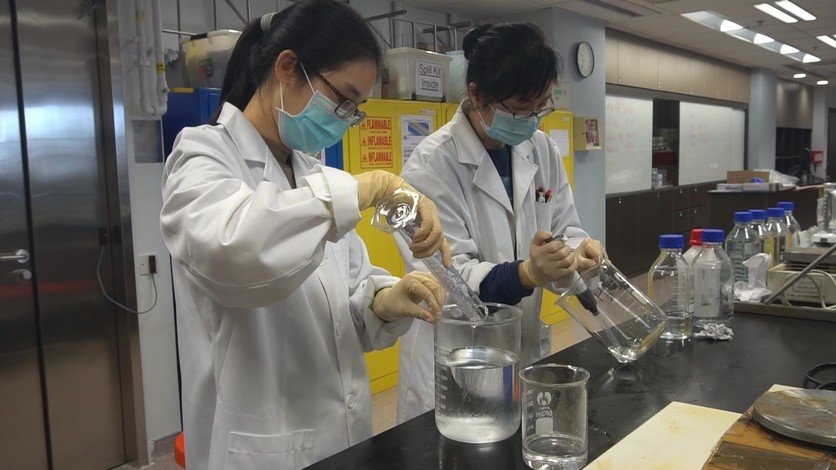 HKBU volunteers donate homemade hand sanitiser to the needy
HKBU volunteers have donated more than 200 litres of alcohol-based hand sanitiser to elderly people living alone, those with a history of mental illness, and grassroots families.
The volunteer team, which included students and staff members, worked with five non-governmental organisations (NGOs) to distribute the hand sanitiser, and the initiative will help the most vulnerable in society fight against the COVID-19 epidemic.
The batch of hand sanitiser, which contains 75% alcohol, was produced by HKBU's Department of Chemistry according to the World Health Organisation's recommended formulation. Assuming that each use of the product consumes 3ml of hand sanitiser, the amount produced by HKBU can be used 72,000 times.
The volunteer team behind the campaign included students and teachers from the Department of Chemistry, student Green Ambassadors and student hall residents, as well as staff members from the Centre for Innovative Service-Learning, the Estates Office and the Office of Student Affairs.
Since late February, the team have distributed the hand sanitiser to Saint Too Canaan Church of the Evangelize China Fellowship, the Hong Kong Blind Union, St. James' Settlement, the Yiu On Halfway House of Stewards, and the Women Service Association.

Please click here for more details.
From HKBU eNews

https://bunews.hkbu.edu.hk/news/community/hkbu-volunteers-donate-homemade-hand-sanitiser-to-the-needy?utm_source=hkbunews&utm_medium=email&utm_campaign=daily_20200323